Handouts
Welcome to our new search engine! It is easier to navigate, so grab a cup of coffee and have fun shopping! Or, if you would prefer, we will be happy to provide you with a custom quote. Simply click here. With over 25 years of experience in the printing and promotional products fields we have the expertise to find the right item at the right price to fit your needs!
Handouts gets you Recognized & Remembered!
Featured Item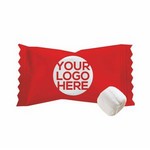 Buttermints Cool Creamy Mint - White - C...
Best selling candy cool creamy mint blended with butter richness. New Formula - No Transfat. 5 month self life. Safe quality food (SQF) certified. Custom wrappers enhance your brand experience. Relati...
$60.60 - $89.80
Signature Showrooms